In case you missed it! OrthoFi partnered with New Patient Group to present the next installment in our Webinar Series entitled 'The $2 Million Practice with Two Employees: A Revolutionary New Business Model.' Our esteemed host, Brian Wright shared his "Pillars of Business Success" that have helped practices across the country rethink their growth strategy and create a culture of innovation outside of the clinic.
You can catch the recording of this webinar by clicking the image below: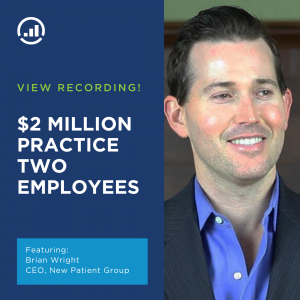 In this webinar you will learn:
How to create a scalable business model that minimizes 'growing pains' and maximizes production
Techniques that give your practice a competitive advantage to convert more start opportunities and optimize growth
Leadership skills to take your practice culture to the next level and help your team thrive
BONUS: Brian Wright mentioned the 'water bottle approach to growth' a few times in the webinar and he just released a new podcast episode on this topic. Check it out here.
Back