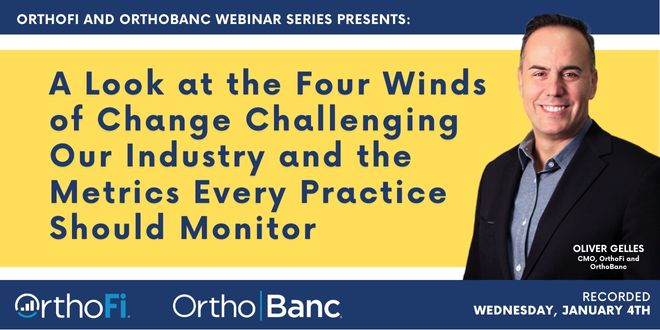 The winds of change are blowing, and a 2023 economic recession is looming.
Are you prepared?
Oliver Gelles, data enthusiast and CMO at OrthoFi and OrthoBanc, reviews orthodontic trends and the hard data, then gives you actionable takeaways that will help you face the "winds of change" impacting today's practices:
Economic uncertainty
Staffing and capacity challenges
Consolidation of practices
Competition from direct-to-consumer aligners
Practices are up against staffing shortages, increased wage requirements, declining new patient starts, a higher cost of doing business…and the list goes on – you need a plan.
"When the winds of change blow, some build walls, and others build windmills." 
Change is coming. Meet the challenges head-on and set your practice up for success. Learn how to establish a plan for your team that will move the needle in your practice from a business perspective in 2023 and beyond.
Back