Watch as Tracy Martin, Founder of Straight Consulting, presents expert insights into The Power of a Limited Treatment Strategy to Compete with DSOs & DTC Aligners. Tracy Martin explores what the "other guys" are offering and why shifting to a Limited Treatment Strategy could set you up to compete directly with their treatment offers.
"It is important that practices understand the patient psychology—especially for Millennials—on why they would choose a DSO or DTC Aligner company over a private ortho practice or OSO," said Tracy.
In this session, Tracy will:
Provide a strong case for offering Limited Treatment
Explore the ideal way to present this option
Discuss some common mistakes practices make that could sabotage their efforts toward implementing this change
And more!
Click here to watch!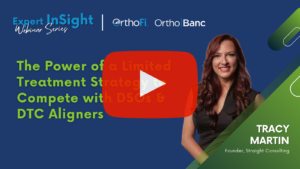 Back