Key Leading Indicator Metrics for Your Practice
Looking to make some changes in your practice, but how do you know you're doing the right thing without absorbing a hit? The key is to have great leading indicator metrics to allow you to test price levels and get rapid feedback.
The typical practice relies on Case Acceptance as their go-to conversion rate metric. While that can be a good measure over time, Case Acceptance tends to be variable and noisy in the short term. That's because Case Acceptance doesn't do a good job of filtering out the up/down impact of Obs patient flow.
In months when the practice sees more 8-year-olds that are not eligible to start treatment, Case Acceptance will drop as much as 10 to 20 points. Conversely, in months when a lot of those obs patients actually start (obs-ready exams don't count toward the exam total), Case Acceptance rates can rise to over 100%. Neither of these results reflects the practice's true conversion effectiveness. Over a period of 6 months, these effects tend to normalize but six months is a long time to wait to see if your fee increases have hurt conversion rate.
Instead, you need leading indicators. The two to consider are Same-Day Contracts (often called Same-Day Starts), and what OrthoFi calls 45-Day Treatment Recommended Conversion Rate (45-Day TRC).
Same-Day Contract Rate
Same-Day Contract rate measures what percent of your starts are signed on the day of the exam. They are so important because as soon as prospects walk out the door, the chance of you converting them falls off a proverbial cliff. The likelihood of converting the patient drops 20% the moment they leave and decays by 35% for children and 45% for adults over the first two weeks. A lot of offices do their follow-ups in batches every other week. If you're one of these, you are likely cutting your chances of converting the patient by almost half. Yes, that reads 'half '.
If your fees exceed the elasticity of your local patient base, you would expect this rate to fall. That doesn't necessarily mean your conversion rate will plummet, but Same-Day Contracts are proven to correlate with conversion rate.
In addition, getting patients to complete their intake forms before they come to the exam is essential to Same-Day Contracts. This way, you have all the information you need to present the total out-of-pocket cost during the exam since insurance benefits have been verified ahead of time.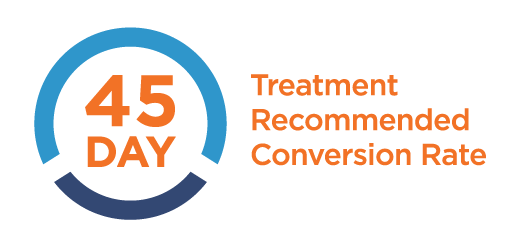 To be double-sure about your conversion rate, 45-Day TRC should be the other bookend. TRC measures the cases you start as a percentage of only those you recommend treatment and are eligible to be converted. It takes out the noise of Case Acceptance and delivers a stable metric. OrthoFi's 45-Day TRC measures what percent of patients who were recommended treatment in the last 45 days converted. While this rate is typically lower than the practice's total conversion rate, it is far more reliable and stable. It allows you to test fee increases with a short feedback window to ensure you maintain conversion rates and maximize the full impact of the lift.
Some important factors influencing your current TRC include:
Ease of your scheduling system
Number of appointments you require to put braces on
Efficacy and timeliness of your new patient processes
Affordability of your treatment plans
Ultimately, these leading metrics enable you to see your conversion rate in real time and over time, helping you identify areas of opportunity. Then you have the truest measure of how your consult room is performing. By looking at a cleaner past, you can better understand and predict your likely future.
Click here to schedule a time to talk with a member of our team about how OrthoFi can help you add more value for your patients and thrive in this new era of orthodontics.
Back