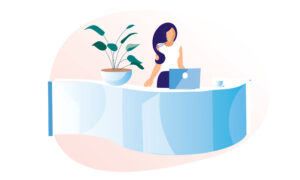 As an orthodontic patient, there are a few things that are expected to be a little uncomfortable—queue mental image of cheek retractors, bite trays, and TADs! Though the path to a perfect smile can be daunting at times, we believe that the process of choosing a practice should be easy and maybe even a tad enjoyable.
What causes friction in a patient-practice first impression? It's not the most fun topic, but it is arguably the most important to understand—for doctors and team members alike.
From the patient's point of view, the experience of choosing an orthodontic practice, deciding on an affordable payment plan, and undergoing treatment is often a bumpy road. For a practice, causing a prospective patient to walk away feeling annoyed, anxious, or alienated is unnervingly easy.
Practices, of course, aren't creating these negative experiences on purpose. Nevertheless, they often struggle to adapt their operations to serve an ever-changing population of parents and patients.
This lack of alignment causes friction—friction for practice teams and for the patient. And we are here to destroy it. Consider this your patient acquisition guide to help you destroy it.
To smooth out friction in your practice, start by cultivating and maximizing the four C's:
Convenience
This is about creating less work for the patient or parent who is shopping around. Patients and parents have more access to more information in this shopping-around stage than ever before.
During the new patient call, you can assume that the patient on the phone is calling around, doing research online, and doing what they can to vet your practice before they commit. Patients look at an average of 2.5 practices before signing a contract. Be the ONE by setting your practice up to offer maximum convenience.
The key to weaponizing convenience? Give the patient more opportunities to convert. Meet them where they are, and make it as easy as possible for the pending patient to take action away from the office and outside of office hours.
28% of new patient signings happen from out-of-the-office or outside of usual office hours. If you don't have the systems in place to allow prospects to go home, chat with their partner, or do whatever they need to do before they decide to sign up from their phone—then your conversion rate is suffering.
In the event that a patient leaves your office without signing, rest easier with an arsenal of tools that recreate open-choice access from anywhere.
OrthoFi's Sign@Home feature allows you to capitalize on every pending opportunity by allowing patients to review their treatment plan, accept treatment, sign their contract, and every make a down payment from the convenience of their couch. Mobile push notifications ensure a high level of interaction with very little effort. Imagine the time your team would save on follow-up work.
Communication
Be intentional about how you establish expectations for your patient or parent. No one should leave the office without having a good idea of what it would be like to proceed with your practice's treatment plan. Patients who feel like they know what to expect are more likely to trust you and your team because you took the time to walk them through it.
This is an easy way to stand out from your competition as pending patients may not remember everything about your practice, but they'll remember that they felt heard and cared for.
Our Tip: Answer questions before they are asked. What is the sequence of events? What decisions need to be made? What is set in stone and what is uncertain about their Tx and payment plan? Who is their main point of contact? Is there coffee? What is the wifi? …And that's all before a patient even meets a doctor.
Not only is it helpful to anticipate their questions, but it can also be a game-changer for your case acceptance rate when you initiate a simple, direct channel for prospects to contact you in a way that feels comfortable to them.
Answer questions before they are asked.
Our 2-Way Texting feature allows practices to have text conversations with patients from the convenience of the OrthoFi practice portal. This relatively new capability is helping our practices to be more organized, responsive, and digital to meet the needs of their patients.
Control
Give patients ownership over as many steps as possible—especially when it comes to payment. Your bottom line will thank you when you give your patients the power to choose their own payment plan.
It is easier to lose trust or leave a bad taste during the payment plan discussion than it is during any other step in the process. A practice could provide a pristine patient experience and still leave the patient feeling uneasy if the menu of payment plans offered doesn't feel right.
Hot Take: giving all patients the power to pay in any structure they prefer is possible (and even practical) for any practice. Flexibility and agency mean control and peace of mind for a patient, and it doesn't have to require a sacrifice in your practice's cash flow.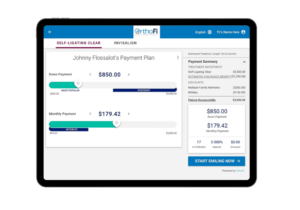 With our data-powered payment slider tool, we use patient intelligence to offer up the maximum amount of flexibility for that particular patient.
Flexibility and agency mean control and peace of mind for a patient, and it doesn't have to require a sacrifice in your practice's cash flow.
They see a simple sliding calculator that serves up a comprehensive, personalized payment plan. We see a risk-mitigating, data-powered gateway to frictionless patient contracts.
Comfort
Difficult financial decisions are not fun. On top of that, financial conversations can be downright painful. This is true for everyone involved, and it is a huge source of friction for many patients. Smooth out this part of the process by giving patients the autonomy (and privacy) they need in order to determine their ideal plan in a low-pressure environment.
In OrthoFi's Business Management MasterClass, we discuss the power of people, processes, and technology in finding your practice's stride for maximizing same-day starts. This is where the "people" factor shines because everyone on your team plays a part in building relationships with patients so that they will feel comfortable choosing your office.
Uncomfortable topic: Stuff happens and people miss payments. OrthoFi's 180-day Collections protocol means our practices don't have to spend hours following up on late or default payments. More importantly, practices can preserve positive relationships with patients who are behind in payments while they are still in treatment.
Did you notice the C that is missing here?
Can you guess? It's clinical excellence. Although providing top-notch clinical care is a cornerstone of any practice, patients and parents will be less likely to experience a doctor's signature in-chair magic if the process leading up to pursuing treatment is inadvertently full of FRICTION.
At OrthoFi, we believe that orthodontic practices can take easy steps to create big improvements in a patient's first impression. We believe that creating a frictionless experience for patients doesn't have to be friction-full for practices. We believe that our dynamic suite of tools and services is the most cost-effective and comprehensive solution for teams aiming to better serve a dynamic population of patients and parents.
Click here to schedule a time to talk with a member of our team about how OrthoFi can help you curate a patient experience that directly leads to other big C's: higher Case acceptance and Conversions! Ciao.
Back